On the 18th of July, the Cabot Institute at the University of Bristol hosted a one day conference for academics, landscape designers, industrial partners and policy makers to discuss how to create sustainable urban landscapes for the future. The event was organised to promote the exchange of ideas and to combine expertise from all stages of the process to determine how to create spaces that would maximise biodiversity and environmental benefits whilst remaining somewhere that people love to use.
City Academy Meadow, Bristol
A common theme throughout the conference was whether green spaces in cities can be designed to accommodate the needs of both local wildlife and people. Professor Nigel Dunnett from the University of Sheffield was one of the principle designers of the Olympic Park landscape, where he created a stunning biodiverse pictorial meadow with a long flowering season. His presentation highlighted the importance of creating a landscape that wildlife will benefit from, but critically that people will use and love. Professor Dunnett argued that we take more joy from seeing a beautiful expanse of flowers than a lawn monoculture and that "beauty in biodiversity is about people in ecology". Landscape architect Kym Jones echoed this, describing landscapes that people don't want to use as "socially unsustainable", no matter how many environmentally-friendly boxes they tick.
Professor Dunnett's urban meadows are controversial because he often uses non-native plant species in his design to increase the flowering period. Professor Jane Memmott of the University of Bristol Urban Pollinators research group presented data collected at nature reserves, farms and urban green spaces around Bristol that suggest most pollinators don't really mind whether native or non-indigenous plant species are used, as long as they produce a lot of flowers. She reported that whilst pollinators are more numerous in nature reserves than urban sites, the cities retain a high level of species diversity that it is important to protect in the future. This called into question the BREEAM system of measuring sustainability in new developments, which does not usually allow non-native species to be incorporated into a design.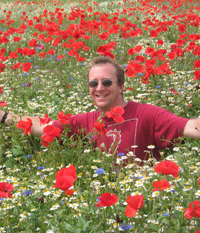 Professor Graham Stone
The debate about whether people would accept more biodiverse landscapes continued by questioning public opinion. Many established parks are attached to historical expectations of that place; typically well-manicured lawns and pruned trees. The group agreed that it was time to try and change the public's perception to accept a little wilderness in parks and gardens as a habitat for local wildlife. Urban meadows begin to look neglected after flowering, however Professor Graham Stone of the University of Edinburgh mentioned that it is important to let the plants produce their seeds to provide birds with an important food source in the autumn. Bristol City Council have been trialling annual meadows in central reservations around the approaches to the city, and reported that they had not had any complaints from local residents about plants looking untidy when dying back at the end of the season. With sustainable landscaping becoming more popular in UK schools and communities, it is hoped that the public perception towards ecologically friendly designs have already begun to change.
Dr. Sarah Webster presented DEFRA's hopes for sustainable urban developments. The 2010 Making Space for Nature report outlined new guidelines for reducing the huge pressures on wildlife, which state that new landscapes should enhance the UK's ecological network by being bigger, better and more connected to existing habitats. DEFRA is currently trialling "biodiversity offsets", where companies restore an equivalent area for every habitat that is unavoidably lost during a development. It is currently undecided whether or not these offsets will be mandatory if introduced, and it remains difficult to quantify the importance of a habitat in order to produce a new site of equal value to the environment. If this scheme goes ahead, careful planning could ensure that urban landscapes become more connected and form ecological networks within cities.
One of the major difficulties facing the landscape industry is how to measure the economic benefits of sustainability. Howard Wood presented his work with Lyon Parks Department in France, an ambitious project that saved hundreds of thousands of Euros over a year using ecologically-friendly design and maintenance. His team made their own compost from green plant waste and horse manure, killed weeds using hot water, used bio-control methods to remove pests, planted annual meadows to reduce mowing and maintenance of lawns, and used wood chippings as mulch to reduce weeds and improve soil water retention. The group decided that one of the key aims for the future is to improve the baseline knowledge of how much money different types of sustainable landscape cost to create or maintain, and whether they will cost councils and developers less in contrast to the traditional landscape designs.
Prof Nigel Dunnett
The day ended with a request from the landscape industry partners for academics to make new sustainability research more easily accessible and understandable. Kym Jones mentioned that sustainability is now an integral part of landscape design, but landscape architects need to have the facts about its importance and value to be able to sell it to their clients. The overwhelming feeling was that green lawns alone are not enough; urban meadows promote biodiversity whilst producing beautiful displays of colour for people to enjoy. Professor Dunnett summed the day up best for me when he said, "we need to mix aesthetics and beauty with the science". We are building places for people and local wildlife, and innovative new approaches should be used to allow mutual benefit between us and the natural world.
This blog is written by Sarah Jose, Biological Sciences, University of Bristol
Sarah Jose