Sir Mark Walport
Source:Wikimedia Commons
A few weeks ago, I had the opportunity to participate in a round table discussion at At-Bristol with
Sir Mark Walport
, the UK Government Chief Scientific Adviser. It was part of his tour of
UK Science and Discovery Centres
, during which he has been summarising our understanding of climate change science:
The Planet in Our Hands – Responding to Climate Change
.
The round table that preceded his talk was initiated and chaired by Dr Penny Fidler, CEO of the UK Association for Science and Discovery Centres. It was an invigorating conversation about what Bristol is doing to transition to a greener, more resilient and sustainable economy. I have lived in Bristol for thirteen years but my research leans toward the global and it is easy to lose sight of the bold initiatives and grass roots campaigning occurring in our city. We live in a city that thrives on a cocktail of technological innovation, thriving digital and creative industries, artistic multiculturalism and political radicalism. It produces interesting tensions and opportunities, such as the
Bristol Solar City
, with an ambition to install 1 GigaWatt of solar PV by 2020.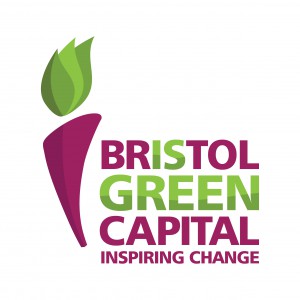 These are the reasons why Bristol has been named the
European Green Capital
for 2015 – the first and currently only UK Green Capital – an honour that should make us feel proud but also an obligation to act and to lead. Consequently, Sir Mark devoted additional time for his Bristol visit to learn about our ambitions and ask questions about how we will achieve them. For example, we discussed the role of the
Cabot Institut
e in Bristol European Green Capital 2015, our efforts to inform and catalyse change, and the mechanisms by which we can better engage with our City.
It was also a fantastic opportunity to learn from Bristol's civic and community leaders who were also in the room. Alex Minshull (Sustainable City Manager of Bristol City Council) spoke of the successes they have had in community energy and home insulation. He and Darren Hall (Director of Big Green Week and now the Partnerships and Legacy Manager for Bristol 2015) also spoke about the limits to that approach – how we have led the UK in the uptake of loft and cavity wall insulation but now face the steep challenge of installing solid wall insulation. This could transform our homes, but it does cost a bit more money and causes a bit more disruption. What role does the Cabot Institute have in identifying the social, economic and personal barriers and catalysing the step change required?
Left to right: Kris Donaldson and George Ferguson.
Source: Bristol City Council
Kris Donaldson, the recently appointed Director of Bristol 2015
, charged with delivering Bristol European Green Capital 2015, spoke about his plans. Kris and I had yet to meet and I was deeply impressed by his enthusiasm for the project. He understood the cultural aspects of the project, and given his previous role as leader of the Liverpool Culture Capital 2008 Company it is no surprise that he was enthusiastic about that. However, we shared an ambition that Bristol 2015 must also encompass political and social change, if we are to make the best of this opportunity and transform the city.
Kris is also keen that Bristol serves as an exemplar to Europe and the rest of the world. This is particularly timely because 2015 will end with
climate negotiations in Paris
to determine the successor to the Kyoto Protocol. This is an area ripe for collaboration with the University of Bristol and the Cabot Institute, as we work with the City of Bristol to share knowledge of climate change and forge solutions. Prof
Colin Taylor
, leading our
Future Cities and Communities
activity, has proposed a new framework for exploring and learning from the continuous and ongoing 'experiments' occurring in a city as dynamic as Bristol: The Collaboratory. It is a way to energise societal transformation – and to learn from it.
Dr Philippa Bayley, Cabot Institute
Manager and co-Chair of Bristol
Green Capital Partnership
Also present was
Claire Craig
, who leads the Government Office for Science and has recently joined the Cabot Institute's External Advisory Board (itself chaired by Sir Mark's predecessor, Sir John Beddington). Others in attendance included the Cabot Institute Manager, Dr Philippa Bayley, there in her additional and new role as co-Chair of the Green Capital Partnership; Martin Bigg (Director of the Environmental Technologies Innovation Network (iNet), University of the West of England); Phil Winfield (CEO of At-Bristol); and Chris Dunford (Informal Learning and Sustainability Manager of At-Bristol). It was a dynamic discussion, spanning a range of policy, education and engagement issues. But it was all too brief, and I am looking forward to continuing conversations with everyone who was there.
The talk itself was excellent
, clearly and firmly reprising our current understanding of climate change. Appropriately, it largely arose from the
IPCC report
and briefings from the
Met Office
. Being familiar with the science, I found the discussion, chaired by Professor Alice Roberts (Professor of Public Engagement in Science at the University of Birmingham, and Patron of ASDC), to be more illuminating. As you might expect from a Bristol audience, Sir Mark was repeatedly challenged about specific government policies, such as
subsidies for shale gas extraction
, that will likely exacerbate rather than mitigate climate change. It showcased the challenges and opportunities of advising government. Sir Mark obviously values the opportunity he has to inform and influence policy decisions, but he also clearly defined his role as an advisor and not an advocate.
And inevitably, of course, that led the discussion back to the rest of us. Experts advise; the public votes. And we must decide as voters how to treat politicians who ignore or disrespect their own experts. Within that frame, the Cabot Institute sits in a unique position. We can and should comment on the consequences of specific political decisions. We have an obligation not only to serve as another expert working behind the scenes but as a partner with the media and public to develop and share knowledge. In Bristol, the lead-up to 2015 and beyond will be an exhilarating time to do so.
Watch Mark Walport's talk at Bristol
.
This blog is by
Prof Rich Pancost
, Director of the
Cabot Institute
.
Prof Rich Pancost