This winter, devastating floods and extreme weather have battered the UK. Similarly, we have been battered by an endless barrage of news, opinion and political grandstanding. Encouragingly, a narrative is beginning to emerge that now is the time for disaster management not a complete dissection of our short- and long-term flood defense system (
an opinion we have advocated ourselves
). That is encouraging.
It is vital that the issue of climate change be a central part of that discussion. Climate change is one of the most profound challenges facing humanity – a challenge recognised by scientists, politicians, lawyers, businesses and
even the military
. However, it is a challenge associated with uncertain and complex consequences, with the most pernicious concerns not necessarily being climate change itself but how it exacerbates other issues, such as flooding but also food security, access to resources, the spread of disease and fostering conflict. It cannot sit in isolation from the rest of the news, and it demands nuanced exploration by the media that facilitates the responsible formation of opinion and policy.
UK aid supplies are loaded onto HMS
Daring by UK military personnel in the
Philippines after Typhoon Haiyan.
Credit: Simon Davis/DFID/Flickr
Experts (including but certainly not limited to academics), the public and the media form a triangle around policy makers, ultimately influencing the decisions that our governments make. Most government decision makers genuinely want to enact policies that will be beneficial, but they must make those decisions in a sometimes confusing storm of information and misinformation, opinions and ideology, and short-term political imperatives. Therefore, experts, the public and the media should work together – although the members of the
Cabot Institute
provide advice directly to government, we must also help foster the political climate that allows the best, evidence-based decisions to be made.
Given the complexity of climate change issues, I have been pleased to see some parts of the media adopting a more sophisticated discussion of the topic. For example, fewer journalists have asked whether climate change 'caused' Typhoon Haiyan or the UK's severe winter storms and more have asked how climate change might affect such events in the future and how that might impact food prices. More are discussing how the extreme winter will exacerbate the refugee crisis in Syria. These are subtle but important expansions of the media conversation that reveal an increasing understanding of probability and the multiplication of risk.
However, media sins persist, many of them specific to climate change but arising more generally from the external factors that have transformed the entire industry over the past two decades: a need for ratings, a need to entertain, and (most damaging in the case of environmental issues) a rapid news cycle that is better at responding to current events than in depth analysis and long-term considerations. This has been particularly illustrated by both the media and political reaction to the floods of this past winter.
Most frustrating is the persistence by some parts of the media in creating a debate on the scientific evidence for climate change – a debate that does not exist but presumably enhances the entertainment value of the discussion. I'm not opposed to debate. In fact, I am eager for more rigorous, fact-based debate on this and other issues. This is where the academic community and media could come together and bring real value to our community. But it is deeply frustrating to become entrained in non-debates regarding the underlying physics of global warming and the greenhouse effect, when there are important discussions about how much warming will occur, what the consequences will be and the cost-benefit of different policy decisions. To its credit, media coverage is increasingly moving in that direction and ongoing coverage much better reflects the balance of scientific opinion.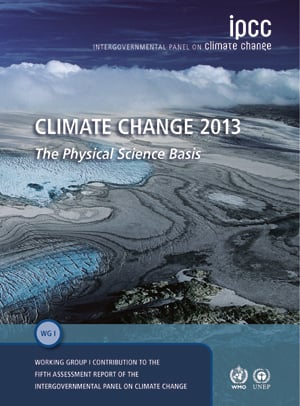 However, in the aftermath of big climate news events, such as the release of the
Intergovernmental Panel on Climate Change
(IPCC) report or a spate of unusually cold weather, this non-debate is resurrected. At these times, it is frustrating that the media rarely acts as a moderator of baseless and factually incorrect claims – on both sides of the topic. Lobbyists and pundits are allowed to repeatedly state that the IPCC report is '
mumbo jumbo
' or that the science of climate change is a '
conspiracy
'. It is not entirely the climate deniers who abuse evidence; some advocates for climate change action, with whom I am sympathetic, describe a 'climate apocalypse' or '
climate breakdown
', fearsome concepts that upon scrutiny mean nothing scientifically. Unfortunately, the policy of some organisations (I'm looking at you, USA Today) mandates that any editorial comment on climate change requires equal space for the opposite opinion; it is analogous to an editorial on the space programme being counterbalanced by an opinion from the Flat Earth Society. Some media agencies are adapting; Paul Thornton, the LA Times letters editor,
refuses to run letters in the newspaper from some climate sceptics
in order 'to keep errors of fact off the letters page.' There are important discussions to be had, but these will be forgotten if we become mired in debates over putative hoaxes, conspiracies or divine judgement of our hedonistic lifestyle.
One way forward is to bring more creativity to the conversation by bringing in new expert voices. As with many other policy debates, the climate change discussion has become ossified into rather turgid and unhelpful patterns: scientists vs sceptics, environmentalists vs business. These are poor representations of the actual issue. Insurance companies are deeply concerned about climate change. Our military believes that climate change could exacerbate future conflicts. Religious leaders believe that preventing climate change that disproportionately harms the poorest of the planet is
an ethical issue
. I would urge the media to ignore the uninformed but highly opinionated partisans who put themselves out there, and instead seek out the quiet but knowledgable voices of those who truly understand the challenges facing us and have firsthand understanding of the economic and social consequences. Similarly, I would urge the academic community to focus not only on our expertise – expertise that while deep is often narrow –and explore collective expertise with some of our partners. We should be doing our part to invigorate the conversation by bringing together different cohorts of knowledge.
The most pernicious challenge, however, and one exemplified by the media coverage of the devastating floods that we have experienced this winter, is the fickle nature of the news cycle. Climate change is covered in a sporadic and ad hoc manner – in the aftermath of a severe storm or the release of a new finding. Climate change should not be headline news once a year but rather a continuous part of the news cycle, reflecting its widespread impact on our environment and lives. Encouragingly, this is the trend; a quick survey of the BBC website reveals that articles reflecting on climate change are published every few days. What is missing is a more long-term perspective – how will climate change make typhoons worse in twenty years, how could it exacerbate unrest in parts of the world already stressed by ethnic or religious tensions, will it cause greater instability in global food markets? This is the information the public needs in order to make informed personal and political decisions.
Tamsin Edwards
This change in dialogue also requires a change within the academic community. We tend to think about engagement in the same way that we think about our other academic outputs – discrete publications containing discrete results and leading to discrete press releases. With a few notable exceptions, such as our own
Tamsin Edwards
, we are less skilled in commenting on the wider issues. This partly occurs in IPCC reports, but that alone is insufficient because it is infrequent and a synthesis of the literature, such that it is less engaged with current events or specific ongoing policy decisions.
In short, academics need to recognise our roles as well-informed experts and enter the public dialogue. There is an ongoing and legitimate debate whether climate change scientists should comment on
specific policy
, but it is glaringly evident that we should be injecting climate change into the conversation where it is relevant, on topics as far-ranging as flooding, land use and planning, sustainable energy, global insecurity and agricultural strategies. We do not have all of the answers. Sometimes our most important contribution is raising unasked questions. We do not have to work alone; we can build coalitions of knowledge. But no matter how we do it, we must work with the media – all parts of the media – to share what we have learned.